As the leaves start to change color and the weather cools, it's time to start thinking about how you want to update your wardrobe for Fall! Here are 6 ways that you can wear Fall colors and style yourself confident.
How to Wear Fall Colors Confidently?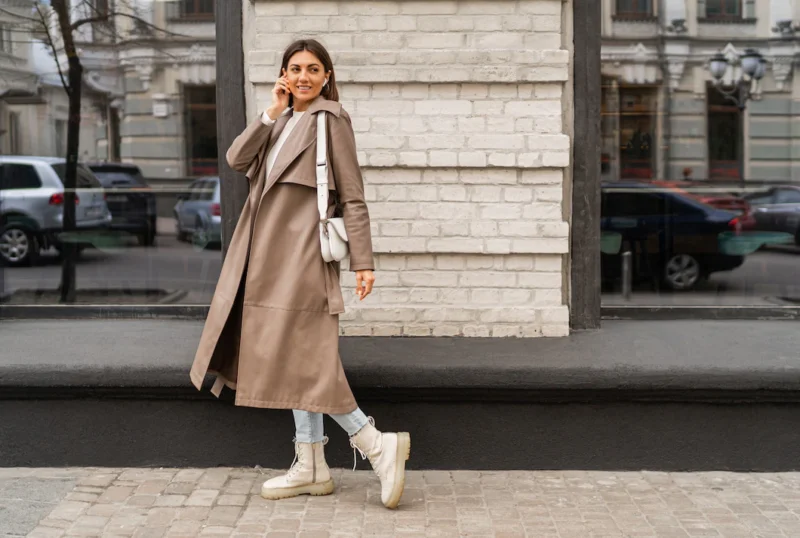 Fall colors can be tricky to wear, but with a few simple tips, you can rock them with confidence.
• First, choose the right colors for your skin tone. If you have a cool skin tone, opt for jewel tones like emerald green or sapphire blue. If you have a warm skin tone, go for earthy hues like mustard yellow or burnt orange.
• Next, build your outfit around one key piece in a Fall color. If you're wearing a green dress, pair it with neutral accessories in black or white. If you're wearing a mustard blazer, keep the rest of your look simple with denim and a white tee.
• Lastly, don't be afraid to experiment with different shades and textures of Fall colors. Mix and match different pieces to create an eclectic and stylish look that is all your own.
Tips for Wearing Fall Colors
Fall colors are all about earth tones and jewel tones. To wear Fall colors, start by choosing a color palette that includes one or two of these shades. Then, build your outfit around these colors. If you're not sure how to do this, consider using a clothing swatch, color wheel, or womens fashion online tips to help you put together a coordinating outfit.
Wearing Fall colors is a great way to show off your personal style and fashion sense. So have fun with it! experiment with different shades and combinations until you find a look that you love.
1. Burgundy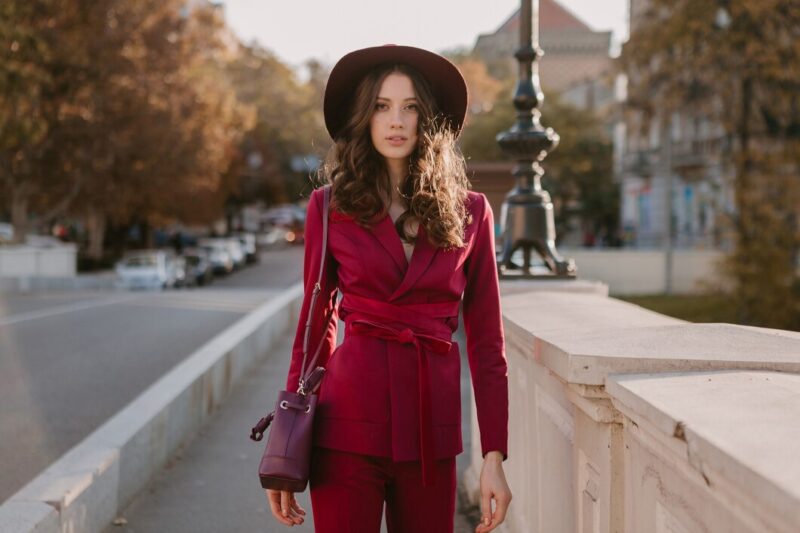 Burgundy is the color of Autumn and represents strength, royalty, and luxury. It looks best when worn as a statement piece or in moderation. Here are a few ways you can work this regal hue into your wardrobe:
• Pair a burgundy top with black pants and heels for a sophisticated look that says you mean business.
• Wear a burgundy dress to your next formal event for an elegant and glamorous appearance.
• Add a pop of burgundy to your outfit with a scarf, handbag, or shoes. This is a great way to incorporate the color if you're not ready to commit to wearing it head-to-toe.
• Create a monochromatic look by pairing different shades of burgundy together. This trend is both fashionable and flattering.
Whichever way you choose to wear it, just remember to style yourself confidently!
2. Chocolate Brown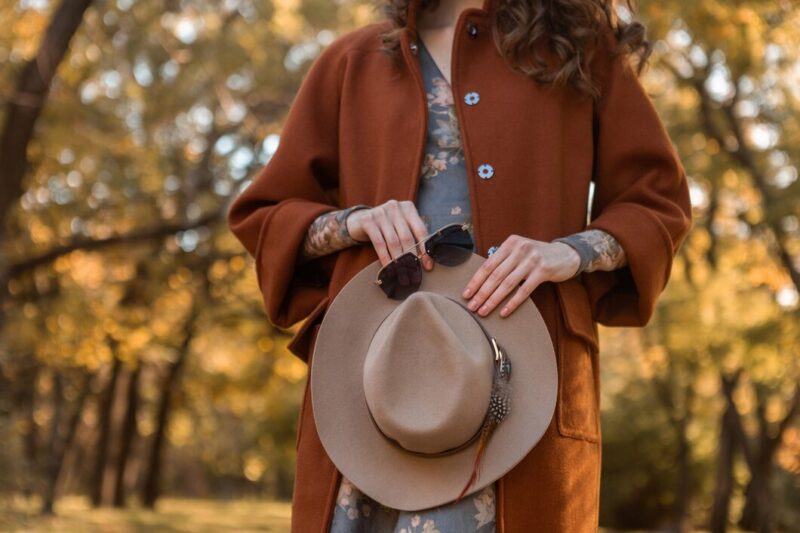 One of our favorite colors to wear in the Fall is chocolate brown. It's a rich, warm color that goes great with many other Fall colors. Here are a few ways you can style chocolate brown this season:
• Pair it with a white shirt and jeans for a classic look.
• Wear it with a plaid shirt and boots for a preppy look.
• Try pairing it with a black top and leather jacket for an edgy look.
3. Camel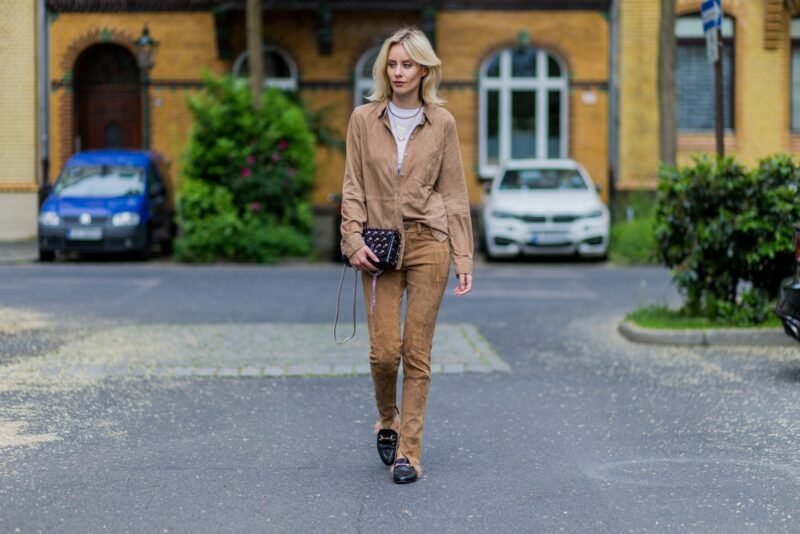 Camel is one of the most versatile colors for Fall. It can be worn as a neutral or paired with other colors to create a variety of looks.
Here are some ways to wear camel this Fall:
• Camel and black is a classic combination that always looks chic. Pair a camel sweater with black pants or skirts for a stylish outfit that you can wear to work or out on the town.
• Camel and navy is another great combo for Fall. The two colors look great together and complement each other well. Try wearing a camel blazer with dark jeans or a navy dress with camel booties.
• If you want to add a pop of color to your outfit, try pairing a camel with red or purple. Red and camel look especially good together, and the addition of purple makes for a fun and unique color combination.
• For a more casual look, pair camel with denim. Denim goes with everything, so it's an easy way to incorporate camel into your everyday wardrobe. Try wearing a chambray shirt with dark jeans or denim shorts with a camel sweater.
4. Olive Green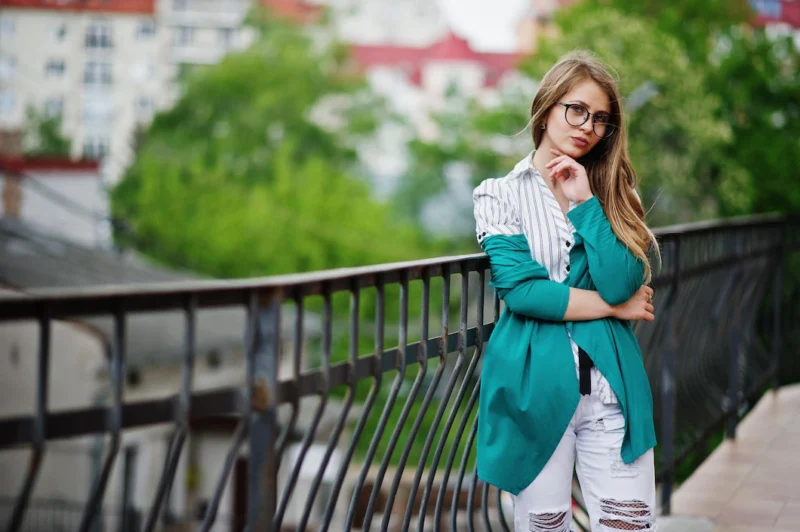 Olive green is one of the most popular colors for Fall. It's a beautiful, rich color that looks great on all skin tones. And, it's perfect for pairing with other Fall colors like burgundy, purple, and gray.
Here are some tips for how to wear olive green this Fall:
• Pair it with a burgundy sweater: Olive green and burgundy are a classic Fall color combination. They look great together and really make each other pop. Try pairing an olive green shirt or dress with a burgundy sweater or cardigan.
• Layer it over a gray shirt: Another great way to wear olive green is to layer it over a gray shirt. This is a great look for work or casual outings. Try pairing an olive green blazer or jacket with a gray shirt and pants.
• Wear it with purple accents: Olive green also looks great with purple accents. This can be anything from a purple scarf or handbag to purple shoes or jewelry.
5. Navy Blue
The best way to wear navy blue is with confidence. This color is perfect for those who want to make a statement without being too over the top. Navy blue is also a great alternative to black if you're looking for something a little more unique. Here are some ideas on how to style navy blue this Fall:
• Pair it with other jewel tones like purple or green for a regal look.
• Navy blue and white is a classic combo that looks chic and put together.
• Try mixing navy blue with unexpected colors like pink or red for a fun and festive look.
• Wear it head-to-toe for a bold and dramatic look.
6. Gray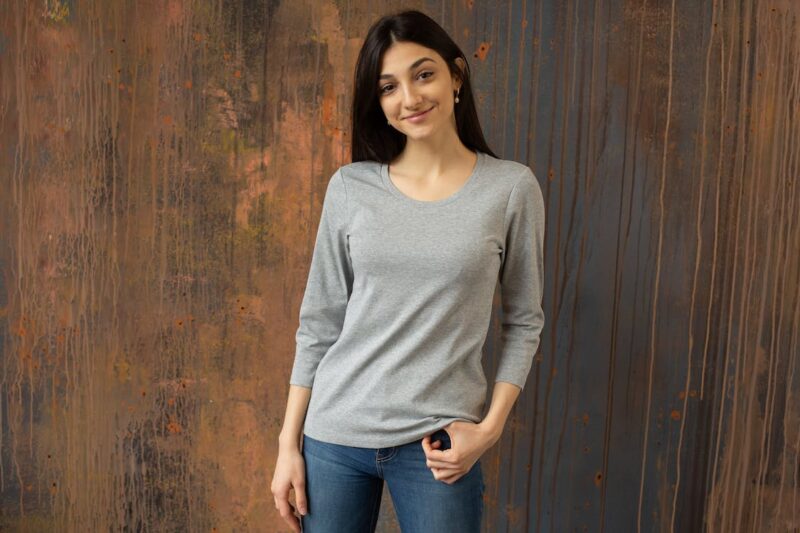 Whether you're a fan of the darker shades or prefer a more muted tone, gray is always a good choice for Fall. It's easy to incorporate into any outfit and can be dressed up or down depending on the occasion.
Not sure how to wear gray this season? Here are a few ideas:
• Pair a gray sweater with black skinny jeans and booties for a casual yet put-together look. Add a pop of color with your accessories to brighten up the outfit.
• For a more formal look, try pairing a light gray dress with heels and statement jewelry. This is perfect for a wedding or work function.
• Layer different shades of gray to create an interesting and unique outfit. Try pairing a dark gray blazer with a lighter gray shirt and pants.
• Try out some of the new gray trends, like distressed denim or velvet fabrics. These add some fun texture to your look while still remaining neutral.
Conclusion
There you have it, 6 ways to wear Fall colors and style yourself confident. No matter which route you choose, make sure you have fun with it and rock those autumn hues with pride. And if you're ever in doubt, remember: Confidence is always in style.