The maxi summer dress is a staple in every woman's closet. It has the power to make you feel glamorous, confident, and sexy all at once. With so many different ways to style this versatile garment, it can be difficult to know where to start.
Let us help! We have compiled an easy-to-follow guide on how to wear your favorite maxi dress for any occasion. Whether you're headed overseas or just need some new ideas for weekend brunch with friends, our list of outfit inspirations will have you looking good from day until night!
Add a blazer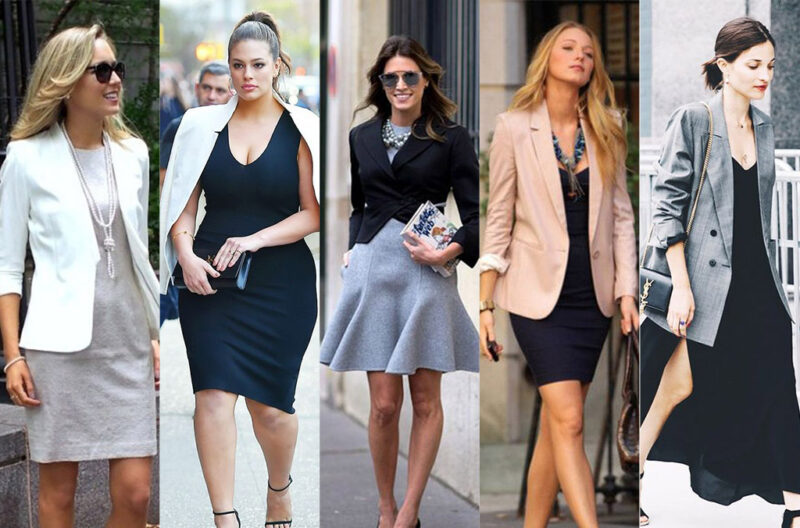 Blazers—particularly oversized ones—are all the rage right now. Wear one to work or use one to add texture to your maxi-based ensemble. If the color isn't complimenting the maxi dress, keep it on the same color spectrum. Finish the look with your favorite pair of heels or even a pair of loafers.
Layer with a knit
If blazers aren't your thing, you can always layer up with a knit—and the more free-flowing, the better. Whether you choose something to match or complement your maxi summer dress, loose-fitting jumpers and cardigans are the hottest way to keep warm right now. Throw on one of these and watch your mere maxi transform into an entire ensemble. The great thing about this ensemble is you can wear it through the cooler seasons, too.
Add eye-catching accessories
What's an outfit without a few sparkly points of interest? Colorful or eye-catching accessories—such as earrings, necklaces, or beaded or floral headpieces—may be small, but they are the finishing touches that can up the 'wow' factor. Look at the earrings on this model:
What Shoes Can You Wear with a Maxi Dress?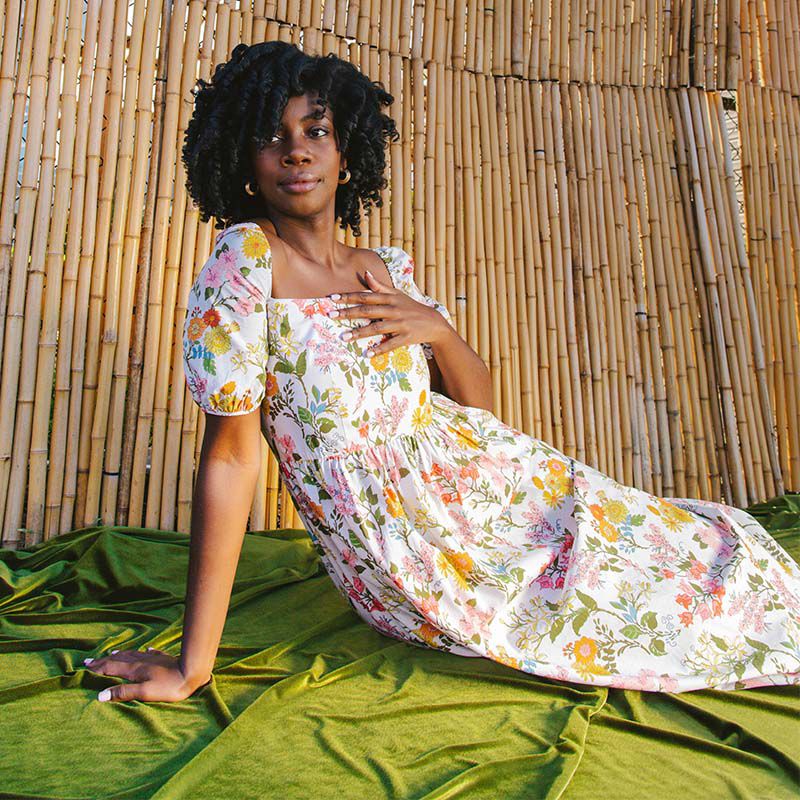 One of the biggest problems for women is how to combine maxi summer dresses with shoes. They can not decide what type of shoes would be most suitable. Let's resolve that problem!
Wearing Maxi Dress with Heels
You can absolutely be confident wearing a summer maxi dress with heels. This counts especially for shorter girls that want to avoid tripping on a long dress. In general, if you love to leave a huge impression on your dress-up look, then heels can be ideal footwear that will highlight your summer maxi dress outfit. Sandals and block heels are more for evening occasions and parties and for a more comfortable option, you can choose white wedges.
In general, whatever the event is, you can wear an attractive maxi dress with heels and style your outfit perfectly. However, the only thing you have to pay attention to while wearing a maxi dress with heels is the length of your dress. If you have the ideal length of the dress which is beyond the floor, you will look perfect.
Wearing Maxi Dress with Trainers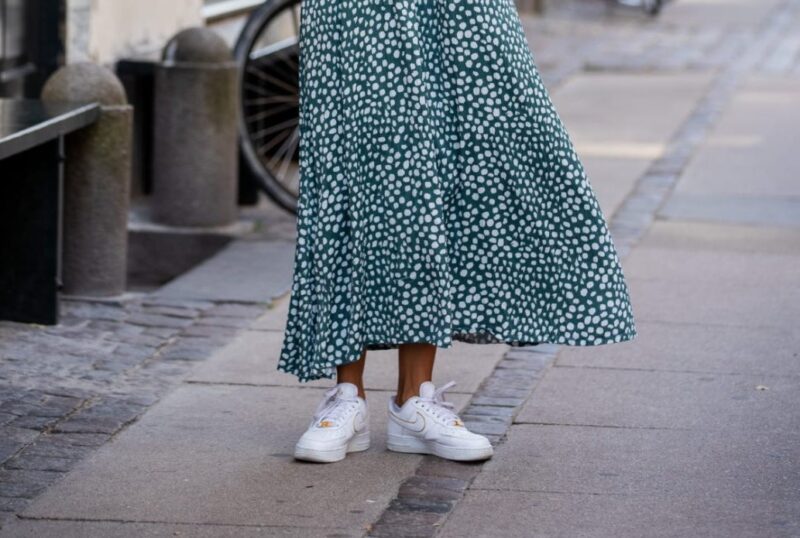 In the last period, women all around the globe started to wear maxi summer dresses with trainers. In fact, this become a modern trend. Therefore, if you want to combine your dress with your favorite trainers, you can have an idea daily summer outfit. This outfit can work even in the colder days when it is paired with a denim or leather short jacket.
Wearing Comfortable Flat shoes
Whether you are looking to combine flat shoes with a summers maxi dress for the daily comfortable look or for a night event, you will not make the mistake. The only thing you need to focus on is the length of your dress, so the flat shoes can be mostly covered. Also, if you are having very chich dress, you should choose rather some neutral flat sandals.
How to combine your maxi summer dress for evening and daily outfits?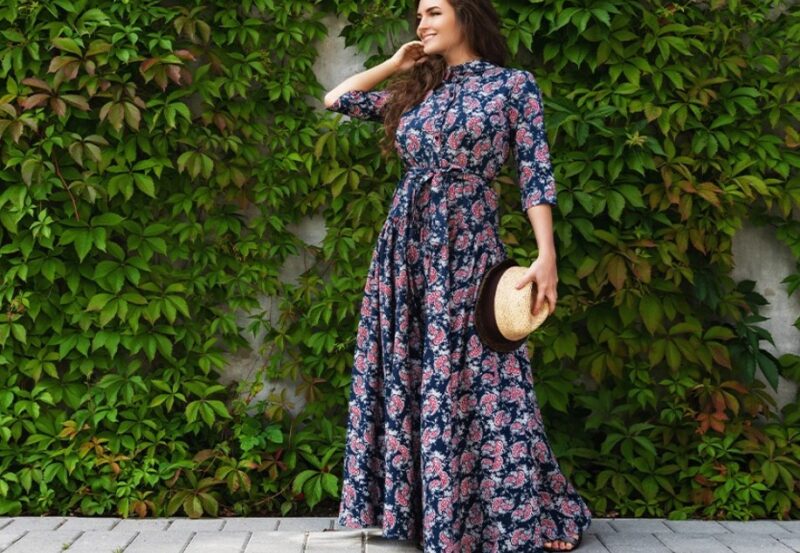 We wanted to cover this topic as well, so you could have an idea of what could you wear for the certain occasion that you have.
Maxi Dress Styles for Evening
In case you are looking for the most perfect evening outfit, we suggest you choose a more elegant and formal dress option. The most elegant look you will get by wearing a satin dress. However, you can select different designs, materials, and colors and still achieve the perfect look. Both long and short maxi dresses can be suitable for night events and parties. You just want to add some sophisticated sparkle to your outfit.
Maxi Dress Styles for Daytime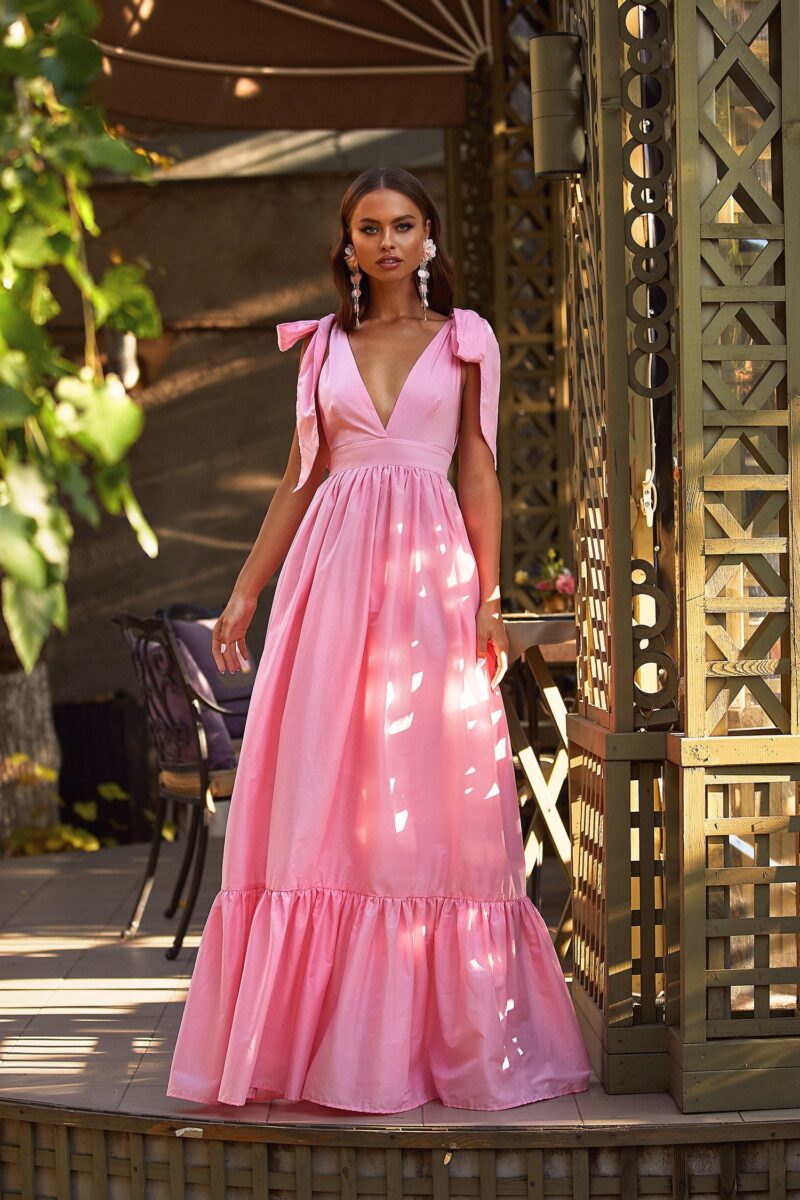 If you want to wear a maxi summer dress during the day, you want to choose a casual and versatile maxi dress that you will be comfortable in. You have complete freedom to select some designed, colorful, and printed dresses.
However, make sure that is not too much. For instance, you can consider wearing a dress with trainers, flat sandals, or ankle boots. Also, you can wear an everyday handbag to achieve a more casual overall look. Logically, for summer it would be best to select some light and flowing material.
They're pink, they're floral, and they capture a dream catcher vibe. They're color-matched, slightly embellished versions of the Cellina Dress itself. For single-colored maxi dresses like this one, accessories that extend the theme can be a great choice.
Add a leather jacket
Leather jackets can go hand-in-hand with blazers. You wouldn't traditionally associate them with maxi dresses, but they provide a contrast that everyone is loving at the moment. Leather jackets can look casual or even a little edgy. If you're digging the latter look, add some sunglasses or ankle boots. Not only will you look sharp, but you'll also look suitably smart-casual for any occasion, be it going out on the town—or out on a shopping spree.
Add a belt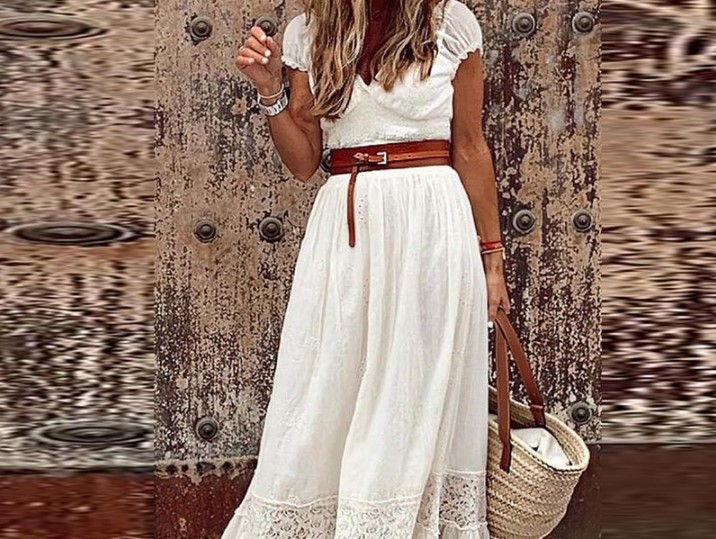 Maxi dresses are great at Christmastime because their flowy silhouette can mask a multitude of sins. Wouldn't it be a waste to not show off a little waist, though? If you want to tighten things up a few notches, you can always add a belt. Why not balance out the look by showing off some curves?
Add a denim jacket
If leather (or faux leather) is not your cup of tea, perhaps you could rock the denim look. Denim is great because, not only does it look awesome now, but it also brings the noughties nostalgia factor. Anyone who was anyone had a denim jacket then, and it ain't too shabby now, either!
This is such a timeless material and it goes with almost any color. We think it would go particularly well with the Kara Dress. The simple spaghetti straps wouldn't gather beneath the sleeves, and the blue florals would match the denim effortlessly. What do you think?
Wear a summer hat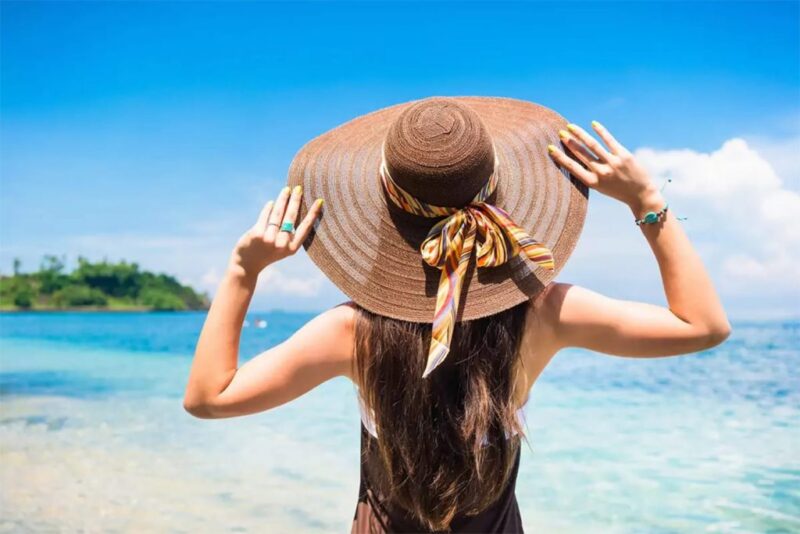 A neutral-toned, wide-brimmed sunhat can really add to an outfit! The most elaborate example we can think of? Audrey Hepburn's black hat with the pearl-colored ribbon. When she wasn't wearing her diamond tiara in Breakfast at Tiffany's, she was sporting this hat, which was almost more eye-catching than her little black dress.
You don't need to wear anything this fancy, but even a straw-colored boater hat can offset an outfit nicely. If it's sunny outside, you can pair it with sunglasses, too—just like Audrey!
How will you style your maxi dress this summer?
From top to toe—because they do literally fall to the toe or below—maxi dresses are fabulous. There are so many different colors and patterns available on the market. Find what works for you, or go one better and take on some of our styling tips! You'd be surprised how simple additions—such as jewelry or a jacket—can change up an ensemble.
Ironically, by adding garments, we can sometimes 'dress down' a look. So if you want to look fabulous in a casual setting, toning things down may be as simple as popping on a leather jacket. Whatever you do, make sure your additions complement or appropriately contrast your maxi dress. Mix and match until you find something uniquely you!