We believe that to feel your best, proper nutrition is crucial. Additionally, eating well might improve your appearance—models, beauty editors, make-up artists, and celebrities all credit proper nutrition for having beautiful skin. Furthermore, nutritionists and beauty specialists point out that nourishing your body with organic, wholesome foods rich in nutrients is crucial to having a radiant glow. So including some nutritious food in your everyday diet is a fantastic idea.
Eating well can assist your skin, whether you're fighting acne, dull skin, or hoping your skin ages gracefully. If you're serious about having healthy skin, you might want to consider it when you're making your weekly meal plan. In this blog, we have added a recipe you can cook with Full Spectrum CBD to enhance the benefits. We will also go through the other recipes, which can prove handy for your skin.
Food Recipes Fashion Models Swear By
Here are the 5 food recipes that fashion models swear by. If you need healthy skin, you can also give these recipes a try.
1. Keto Pasta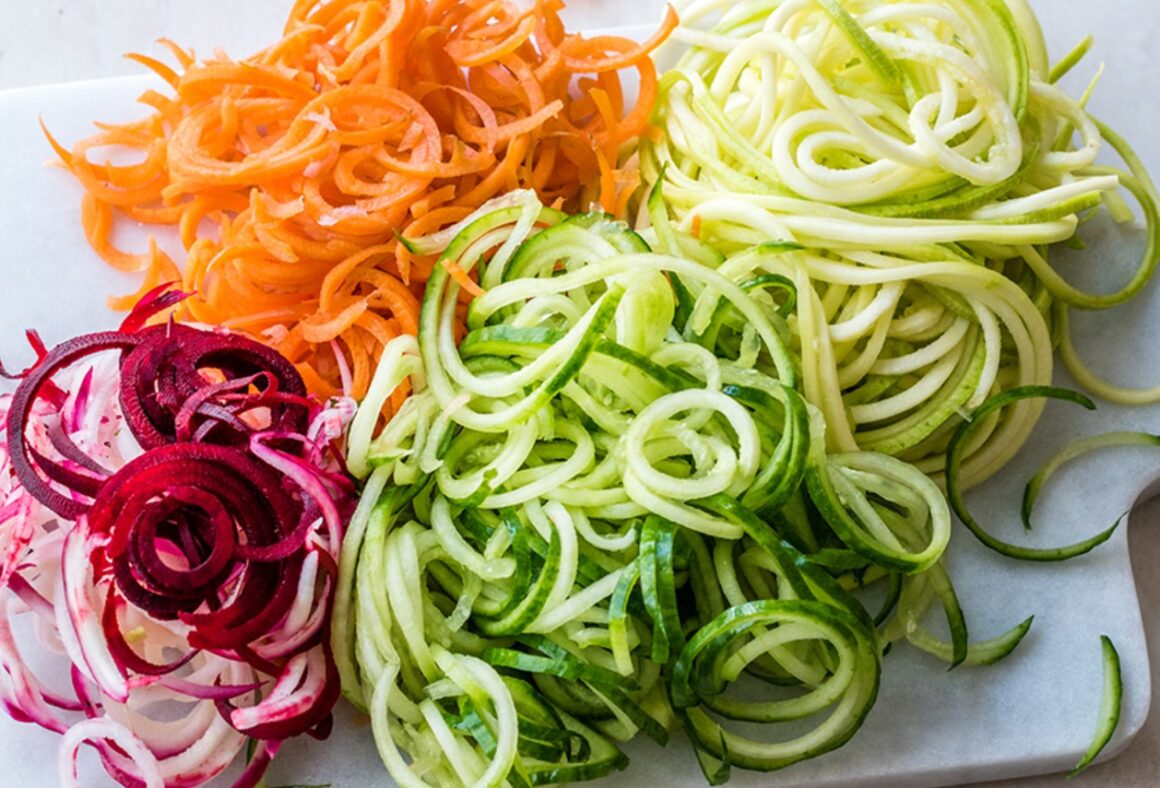 Who doesn't like good pasta? But if you are health conscious, pasta can sound like an unhealthy choice for you, but don't worry, we have got you a very famous and healthy pasta recipe. This Pasta recipe is delicious yet nutritious at the same time.
How To Make
To make this fantastic recipe:
You can start by heating butter in a non-stick pan until it turns golden brown.
Add tomato puree with some salt and let it cook for 4-5 minutes.
Add fresh cream and cheese to the pan and give it a good mix, let it cook for a minute, and the sauce will be ready.
Heat avocado oil, add cherry tomatoes, red chili flakes, oregano, and chopped parsley, and saute it for a minute. Next, peel the zucchini thinly and saute it until it gets cooked. Finally, mix the zucchini with tomato sauce, let it cook for a minute, and your keto pasta is ready to be served.
2. Shrimp Taco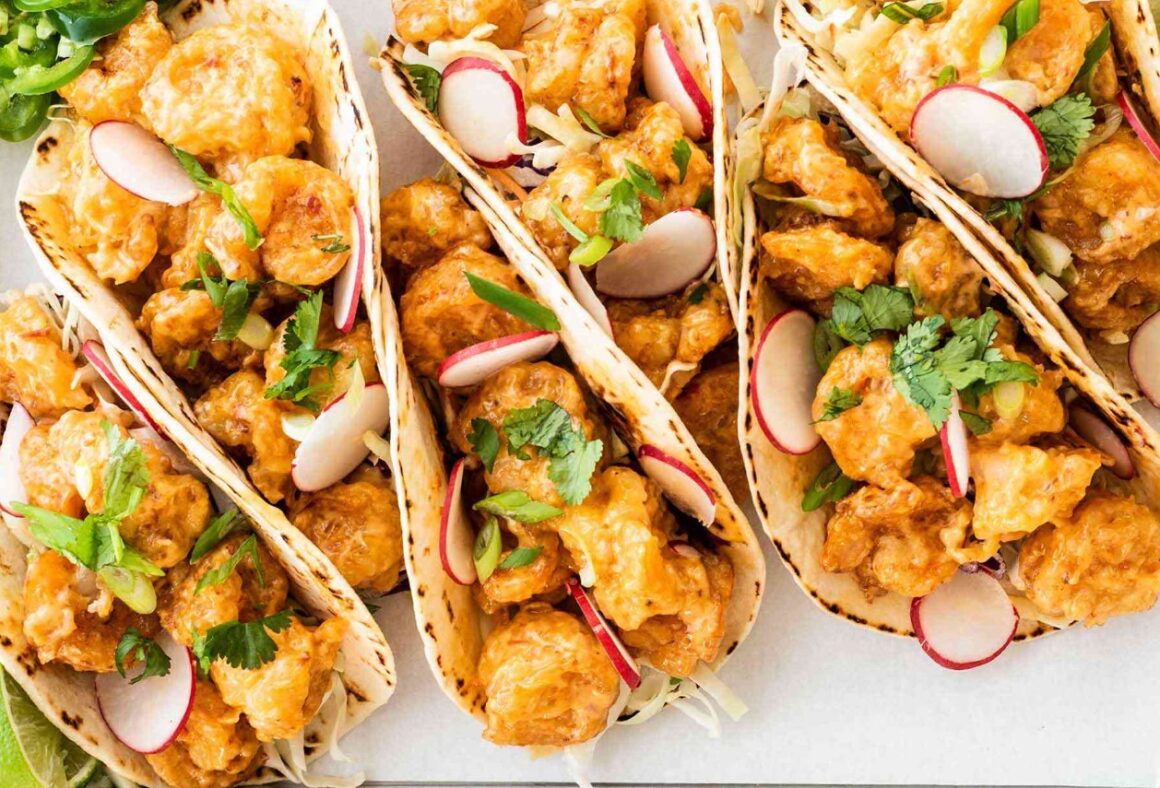 The shrimp Taco Recipe is perfect for you if you enjoy shrimp or have an intense craving for some delectable shrimp tacos. It has a crispy, crunchy outside and a soft inside. You can make this recipe as a regular dinner because it is nutrient-rich.
How To Make
Cut the shrimp and sprinkle it with onion powder and some old bay seasoning.
On low heat, warm up a skillet with olive oil. Cook for 1-2 minutes after adding the chopped cilantro, tomatoes, and half of the onion. Stir in the shrimp thoroughly. Cook the shrimp until they become orange. To prevent burning, stir occasionally.
Next, to fry the tortillas, heat another deep skillet with canola oil. Before heating the oil, wait one minute. Then, place the tortilla in the hot oil (one at a time). Then to make the taco shell fold the tortilla. The tortilla needs to seethe for 30 seconds before it is soft enough to fold.
Make guacamole next. To create guacamole, combine avocado, cilantro, diced tomatoes, lime juice, onion powder, salt, and the remaining chopped onion in a bowl.
3. Smoothie Bowl With Chia Seeds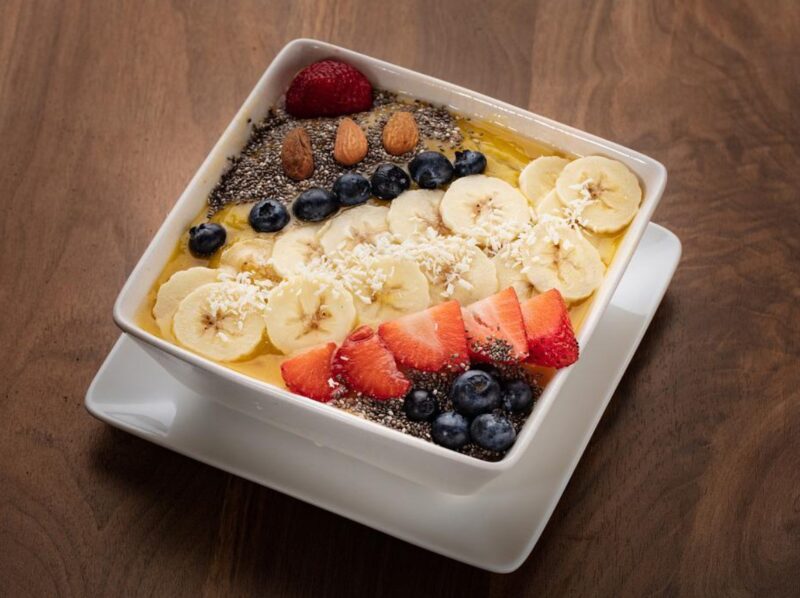 This smoothie bowl recipe is a quick and filling energy bowl with the healthiness of oats, nutrition from muesli, freshness from the fruits, and crunchiness from the chia seeds. It becomes a complete, healthy meal when everything is combined.
Here we have a smoothie that will give you the proteins from the muesli and various micronutrients from the chia seeds and oats.
How to make
Oats, honey, yogurt, water, and chia seeds are combined in a saucepan to make the Smoothie Bowl with Chia Seeds and Muesli Recipe. Heat them for around 5 minutes, till you cook the oats.
Stir in almonds and prunes and give it a good mix. Place the smoothie in a bowl for serving.
Add some chopped strawberries, muesli, and crispy chia seeds on top. A bowl filled with nutrients is ready.
4. Quinoa Salad With A Touch Of CBD, And Black Beans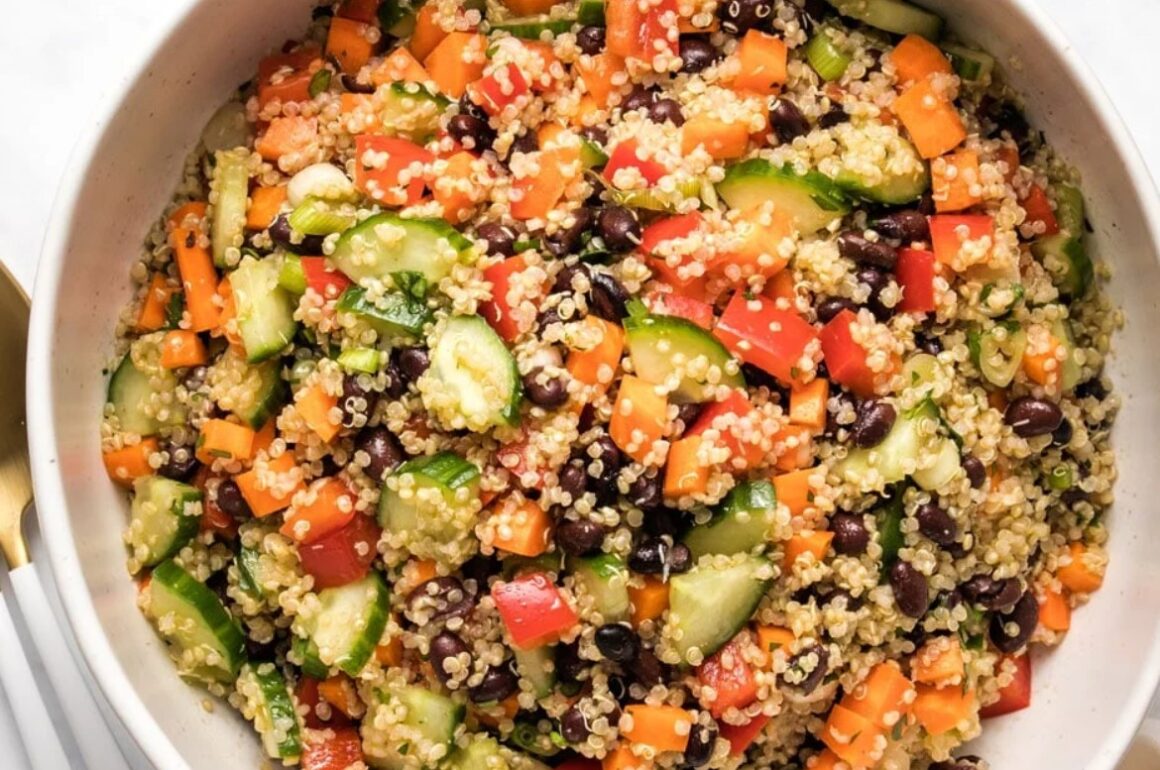 Cannabis has come in handy in cooking going back to the 10th century. It's no surprise that people have embraced this hobby with zeal since cannabis is a "food-friendly herb" that can level up your cooking experience and offer myriad health advantages to your nutrition regime. However, using full-spectrum CBD oil in the kitchen is a recent trend.
This quinoa salad is a protein-rich dish with a spicy dressing that is unexpectedly tasty. Black beans are a good source of fiber and help lower blood cholesterol levels. In addition, full-spectrum CBD may provide various health benefits. The THC in the full-spectrum products can have recreational and clinical uses.
You will require dry quinoa, onions, cucumber, red pepper, and parsley. For making the dressing, use lemon juice, extra virgin olive oil, Dijon mustard, raw honey, garlic cloves, sea salt, Freshly cracked black pepper to taste, and the full-spectrum CBD oil.
How to make
You can cook the quinoa as directed on the package. Add everything to a big bowl after chopping it. With a fork, fluff, and let cool.
Shake a glass jar with all the components for the dressing until well combined.
Vegetables with chilled quinoa. Add dressing, then thoroughly whisk.
Consume right away or keep in the refrigerator for up to four days. While the salad improves as it marinates, the cucumbers will get softer. You should add more lemon juice to the salad if you want to eat it two or more days after making it because the acidity will have decreased.
5. Chicken Soup With Matzo Balls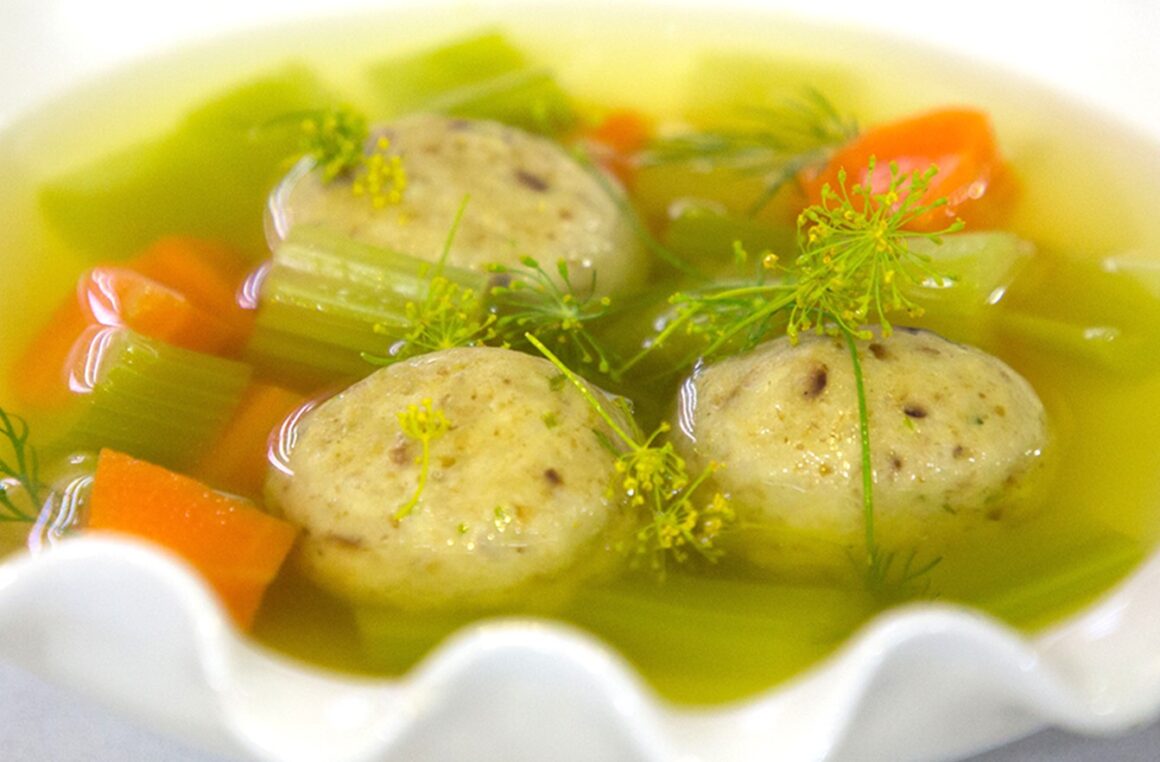 Matzo balls and chicken soup is another delicious recipe you must try if you are looking for a delicious yet healthy meal.
How to make
To make the matzo balls, mix Matzo meal, salt, pepper, and onion powder in a big basin. In a second big bowl, combine the eggs and schmaltz. Very gently incorporate the wet components into the dry ingredients. For one hour, cover and chill.
Salt the water properly and bring it to a boil in a big pot. Form the matzo mixture into a 1 and 1/2-ounce ball with damp palms. The dumplings should be added to the water in the "pot" and simmered for 45 minutes or until completely tender. Up until serving time, the dumplings can be kept in warm water.
For the soup, cook the onions, carrots, and celery in a sizable soup pot for about 10 minutes, occasionally stirring, until tender and translucent. Bring to a boil after adding the bay leaves and chicken stock. The vegetables should be soft after 20 minutes of simmering at a lower heat. If foam or food particles have risen to the surface, skim them off. Throw out the bay leaves. To taste, add salt and pepper.
Summing It Up
Of course, using only one recipe won't give you flawless skin. And your skincare routine plays a massive role in helping you look your best. First, however, you must eat. So why not eat meals that will aid in your skincare objectives? Then, you can feel and look your best with the help of the delectable recipes we've gathered.